KATELIN SWYGERT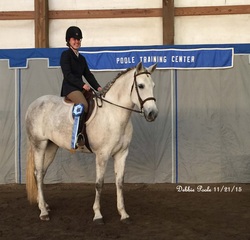 As assistant trainer Katelin works directly with Blanchard, Debbie and Zach.
Katelin has been around horses all of her life starting with Paso Finos. Katelin started lessons with Debbie at Poole Training Center when she was just seven years old Her passion, love and ability with horses has continued to grow as she has grown up and purchased her own horses.
Katelin has won multiple show ring titleson the local, regional & National Level.
In July of 2016 she purchased her first Andalusian and is excited to
continue showing her this year.She has immersed herself in Poole Training Center and in learning all there is to learn about horses and training.


---
NUTCRACKER 2016
In December of 2016 Katelin not only assisted in taking the handsome Frank to the Koger Center in Columbia, SC to be a unicorn in a scene with Clara in the Columbia City Ballet's peformances of the Nutcracker! She also was Frank's handler in his special scene! We couldn't be prouder of Katelin, Zach and Frank owned by Patricia Meyer.
HOLIDAY ON HORSE DRESSAGE SHOW
Holiday on Horse Pictures and Video Credit: Carina Crawford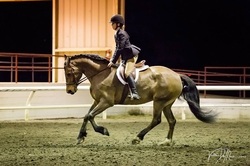 "Treasa Holmes would Like to take a moment to say congrats to
Katelin Swygert
and Sunny Bask Fire of Poole Training Center on being named Southern Baroque Association Spring Classic Overall IFSHA Part Bred Frieisan High Point Grand Champion."
---